Overview
This vast island continent offers incredible cruising: from the Great Barrier Reef's corals and dive sites to wild Kimberley with its stunning scenery.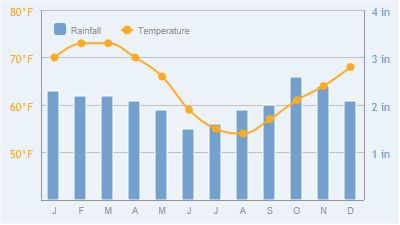 Best time to go
Great Barrier Reef: April to November
Here, there are just two seasons – the dry and pleasantly hot 'winter', which offers ideal boating conditions with light winds, calm seas and balmy temperatures, – avoid 'the Wet' between December and March.

Kimberley Coastline: April to November
The long dry 'winter' from April to November has balmy days and temperatures between 30°C and 17°C. The 'green season' between December and March has higher temperatures (33°C to 25°C) and monsoon rains.

Sydney: November to January
Average daily temperatures vary between 18oC-26oC during the summer months (December-February) and 9oC-17oC during the winter (June-August). Rainfall is highest in February, March and June.

Australia: Queensland: April-October
Being largely tropical, Queensland's cruising season extends throughout the year. Between November and February, the weather is hotter and wetter with short sharp showers and occasional cyclones; the slightly cooler and dryer winter months between May and September bring bright and sunny weather.

Time Zone
GMT +8 to GMT+10.5
Currency
Australian Dollar
Language
English
Capital/principal ports
Capital Canberra is inland. Major ports include Sydney, Brisbane, Melbourne, and Perth
Religion
There is no state religion; although the majority of Australians consider themselves Christians, many other religions are found.

Dress
Aussies tend to dress down, shorts are widespread – even police officers sport them. The attitude is relaxed and easy-going – a few 'posh' bars may state 'no thongs' (flip flops) or 'no singlets' (vest tops) – the usual daywear in this hot country.
Events
The first Tuesday in November is Melbourne Cup day – one of the richest horse races in the world which brings the country to a standstill.

September: The Brisbane Arts Festival is held annually and showcases the best in the Arts

February/March: The Sydney Mardi Gras is the world's largest Gay festival – complete with parties and parades.

December: On Boxing Day (December 26th) the challenging Sydney-Hobart yacht race departs from Sydney's' wonderful safe harbour.

New Year's Eve: Especially in Sydney, where the fireworks are spectacular, New Year is great Down Under – it's the height of summer so New Year's Eve turns into an all-night outside party.

By Air
As Australia is so vast, it is well-served by airports and airlines. The major cities all have international flight connections. For the Barrier Reef, you can fly to Cairns or Brisbane, and to explore the Kimberley or Northern Territory it's Broome or Darwin.
Customs, Immigration and Visas
All visitors to Australia (except New Zealanders) will need to obtain a Visa before they arrive – there are several classes of tourist visa available, depending on length of stay (visas are issued for 3 or 12 months) and country of origin.

Over 18s can bring in 50 cigarettes, 2.25 litres of alcohol, and up to A$900 worth of 'general goods' duty free. Be aware there are strict rules prohibiting the importation of foodstuffs, animal and vegetable material – goods will be confiscated and hefty fines imposed.
Departure and other taxes
Departure tax will have been included in your airfare. Most goods and services have a value added tax (GST) of 10%.

Customs Duties
You may be able to recover GST paid on goods when you leave Australia, as well as claiming the WET (Wine Equalisation Tax) back on wine purchases.
Emergency
The general emergency number is 000 or 112
Medical
Medical care in Australia is very good. You'll need health insurance unless you come from one of the countries with a reciprocal arrangement – in which case you'll qualify for free Medicare. (These countries are New Zealand, the UK, the Republic of Ireland, Sweden, Finland, Norway, Belgium, the Netherlands, Slovenia, Malta and Italy.)
Hazards
There are numerous 'top ten deadliest' lists featuring Australian wildlife. Yes, there are many venomous snakes and spiders – but these are rarely encountered. However, visitors on yachts are subject to other, very real dangers. Sharks grab the headlines but attacks are actually rare – what is truly dangerous is swimming off beaches during 'stinger season' when potentially deadly, but tiny, jellyfish swarm. Saltwater crocodiles are known to attack and kill people – once more, get local advice before bathing in creeks or beaches in the tropical North. Even beautiful corals can cause nasty grazes prone to infection. But the greatest danger is the weather – sunburn, sunstroke and dehydration are the hazards most likely to be encountered by tourists, but often overlooked.
Transport on shore
As distances are vast, visitors tend to use aircraft, but the road system is good, with many opportunities to rent cars. There are also some romantic train journeys.

Crime
Australia has a much lower violent crime rate than other developed nations (such as the US and UK.) In general this is a safe, friendly country to visit.


Sydney Cove, Circular Quay, Sydney.
Possibly the most picturesque superyacht berthing facility in the world, nestled between the iconic Opera House and Sydney Harbour Bridge. Catering primarily for large superyachts that are too tall to pass beneath the Sydney Harbour Bridge, the recently opened Sydney Cove location is already developing a global reputation as a high-quality and unsurpassable location to berth. The facility affords magnificent views of the Opera House and the main harbour. It is adjacent to the 5-star Park Hyatt Hotel and is a 5-minute walk from George Street and Sydney's CBD, and located next to some of the city's best up market restaurants and shopping precinct.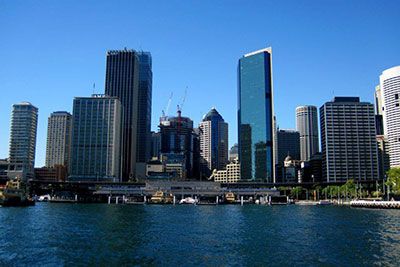 Cairns Marlin Marina
Located in the heart of the bustling city of Cairns, this is a great base for exploring tropical North Queensland. It is close to waterfront bars and restaurants, luxury hotels, shopping and the swimming lagoon.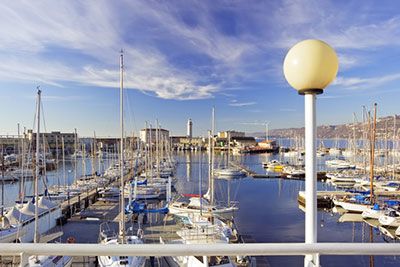 Marina Mirage, Port Douglas
This is the closest mainland access point to the Great Barrier Reef and offers five-star service for superyachts. World-famous fishing grounds and tropical rainforest provide the perfect backdrop for relaxed dining, shopping and an evening in the marina's nightclub.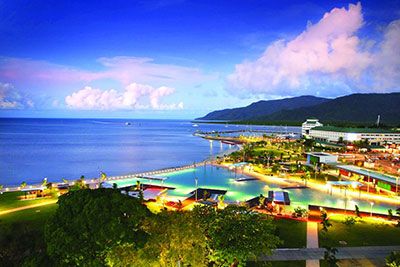 Hamilton Island Marina
This marina lies in the heart of the wonderful Whitsunday Islands. It's a great stopover while cruising the Great Barrier Reef with daily flights to the mainland. Hamilton Island is a luxury resort with many dining and leisure facilities.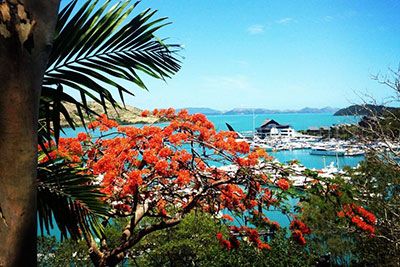 Rivergate Marina, Brisbane
Located in very convenient spot in the heart of Brisbane – Rivergate Marina is just 10 minutes from the airport, and 5-minutes from restaurants. It also has great crew and shipyard facilities.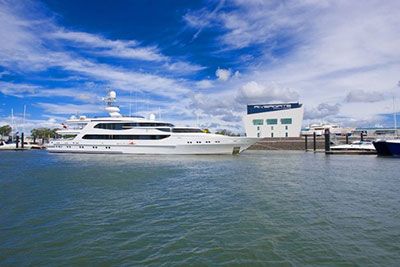 Waterfont City Marina, Melbourne
This is Melbourne's' only dedicated superyacht facility, just minutes from the central business district. Nearby you'll find great dining and public art, and it's the perfect base for enjoying the F1 Grand Prix and Melbourne Cup.