Overview
Situated little more than 50 miles off the east coast of Florida, the Bahamas are a mix of cosmopolitan resorts, up-market marinas, bustling towns, deserted beaches, picturesque anchorages, and sleepy villages. From Bimini in the north-west to Great Inagua in the south-east, this chain of islands and cays are a truly magical cruising ground.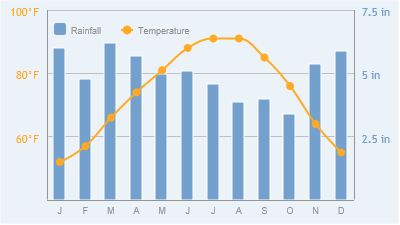 Best time to go
November to July


Timezone
GMT -5
Currency
Bahamian Dollar
Language
English
Capital/principal ports
Nassau, New Providence
Religion
Baptists, Catholics and Anglicans make up the majority of faiths in the Bahamas, but there is a synagogue in Freeport and a mosque in Nassau.


Dress
You're in the Caribbean now, so chill-out and don't worry! It is good manners to cover up in shops and restaurants, but elsewhere things are very relaxed. Smart-casual is the order of the day in the smarter restaurants.
Shopping
The Bahamas are a duty-free shopping heaven, where designer labels can be bought cheaply in places like Freeport and Nassau. Down-island, local handicrafts include straw items, batik fabrics, and wood-carvings are popular with visitors.
Events
Apart from the usual Christian events such as Easter and Christmas, the Bahamas also celebrate Labour Day on the first Friday in June, Independence Day on June 10th, Emmancipation Day on the first Monday in August, and Discovery Day on October 12th.

By Air
There are a number of airlines that fly direct to the Bahamas.
Customs, Immigration and Visas
A valid passport with 90 days before expiry, and a ticket for onward travel are all that is required for EU, US and Canadian citizens. Other nationalities may need a visa. Check with your local Bahamian consulate if in doubt.
Departure and other taxes
$18 departure tax
Custom Duties
Visitors are allowed 50 cigars or cigarettes, or one pound of tobacco, and one quart of spirits, duty-free.


Emergency
Police: dial 322 4444
Ambulance: dial 322 2221
Medical
Medical facilities on the islands are generally pretty good, although they are fairly limited on the smaller islands. Most pharmacies will be able to sort out any minor ailments, but if you need a big hospital you will need to go to Freeport or Nassau. For med-evac, call 322 2881.
Hazards
There are relatively few dangerous animals or insects in the Bahamas, so you shouldn't be too worried. In the sea, treading on sea-urchins will hurt, and some jellyfish can give an uncomfortable sting, as can the bite from a hammerhead shark. There are a couple of species of venomous spider and snake, so if you do get bitten, keep calm and get medical help immediately. It is easy to under estimate the power of the Caribbean sun, so take plenty of high-factor sun lotion, and stay out of the sun at midday.
Transport on shore
Most islands are so small that a local taxi is the best way to get about.
Crime
Crime is generally restricted to petty theft. The islands have been used as staging posts on the drugs route from South America to North America, but the average tourist need not be too concerned about their safety. The usual advice applies: keep your valuables out of sight, and don't walk on the beaches or down dark deserted roads at night.

Ocean Reef Yacht Club, Grand Bahama
With 20 berths for yachts 25m and over, the Ocean Reef provides excellent facilities for visiting superyachts. The yacht club includes swimming pools, bar and restaurant, tennis court, and berths have electricity, fresh water, cable TV and WiFi.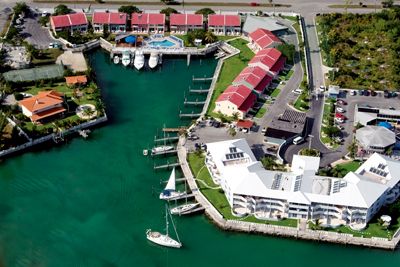 Port Lucaya Marina, Freeport
A large, full-service marina that is blessed with excellent facilities and is close to shops, restaurants and bars, as well as the beach. There are 25 berths for 30m+ yachts, each with electricity, fresh water, pump-out, and cable TV.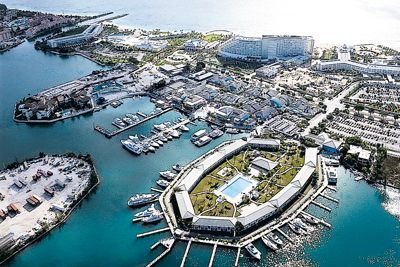 Albany Marina, New Providence
This new marina offers state-of-the-art berthing facilities for cruising superyachts. Visitors can enjoy full access to the on-site boutique hotel, championship golf course, fitness centre, spa, water-park, and restaurants. The 23 berths for yachts over 30m have all the facilities you would expect.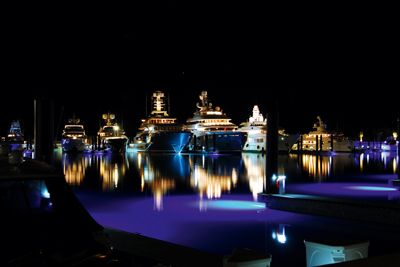 The Marina at Atlantis, Paradise Island
Situated in the extraordinary Atlantis complex on Paradise Island, just off New Providence and close to Nassau, this marina has excellent facilities and 33 berths for 30m+ yachts with all the facilities you would expect. The Atlantis resort has 38 restaurants, a shopping centre and a casino, as well as the world's largest aquarium.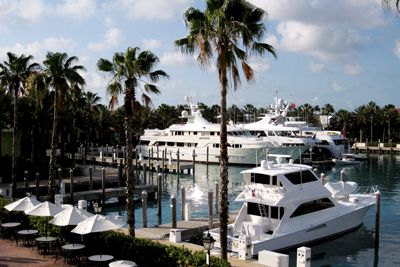 Emerald Bay, Great Exuma
Situated pretty much in the middle of the Bahamas, Emerald Bay has 28 berths for yachts over 30m and each berth has electricity, fresh water, pump-out, cable TV and WiFi. There is a clubhouse with restaurant and bar, there is a bank, 18-hole golf course, and shops.
Stella Maris Marina
The last marina of any size before the Turks and Caicos Islands, Stella Maris Marina offers a limited number of berths for yachts over 30m. However, the facilities are good and include access to the nearby resort. Each berth has fresh water, electricity and WiFi.