Overview
Sardinia is the second largest island in the Mediterranean. From the city of Cagliari in the south to old coastal towns such as Alghero in the north, there is a rich mixture of architecture and culture to be found here.

The Italian island also boasts a number of well-equppied marinas scattered along the coastline including the visually stunning Costa Smerelda. Alghero on the Costa Corallo and Cagliari both offer excellent sailing opportunities too.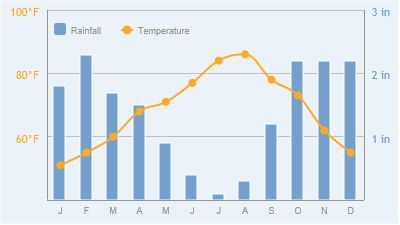 Best time to go
For warm weather for swimming: May-October
(the 'six month summer' when the sea is warm enough to bathe in.)


Timezone
GMT +1 (GMT+2 in summer)
Currency
Euro
Language
Italian, Sardinian (Sardu)
Capital/principal ports
Cagliari
Religion
Around two-thirds of the islanders describe themselves as religious, with the vast majority of these being Roman Catholics. Yet due to its long and varied history, many of the Catholic festivals are strongly reminiscent of pagan rites.
Dress
Sardinians are fairly conservative; so leave beachwear to the beach and avoid skimpy clothing in town. Especially in the smarter resorts, people will often dress up at night – although still retaining a casual feel. Topless sunbathing is widespread and permitted.
Shopping
Not surprisingly, Porto Cervo is the place to shop for designer clothes and luxury goods.

Cagliari, the largest town has the widest range of shops, from English-language book stores, to traditional sweet shops, with excellent shopping around the marina district. Fashion stores are concentrated around Largo Carlo Felice and Via Roma, whereas more traditional and local items can e found along the pedestrianised streets of Vias Garibaldi and Manno. The various Sunday markets are a great way to get a flavour of the island and perhaps to pick up some souvenirs.
Events
The Dubois Cup (June)
This biennial regatta was founded in 2007 to provide Dubois-designed yachts with an event where they can compete together and where owners can enjoy getting the best out of their yachts. Plus it has a further raison d'etre in that it supports the children's medical research charity SPARKS. Run under the flag of the Yacht Club Costa Smeralda it immediately precedes the Loro Piana Superyacht Regatta in June, enjoying the same emerald waters, (mostly) benign weather and sublime atmosphere of Porto Cervo.
www.duboiscup.com
Loro Piana Superyacht Regatta (June 2012)
Fierce racing and racy fun is what this regatta is all about – hardly surprising when the venue is the Yacht Club Costa Smeralda, hang-out of European glitterati and the jet-set since the heady days of the 1960s. Now in its fourth year, the regatta attracts an ever-increasing fleet of sailing yachts – both modern and classic, performance and cruising – intent on four days of exhilarating sailing in the emerald waters of Sardinia. But that's not the only pull – as the sun sets the equally vibrant social scene kicks off with sundowners, informal boat hops, beach parties where there is dancing until dawn and formal dinners, all in the sublime setting of Porto Cervo.
www.loropianasuperyachtregatta.com
L'Ardia (July)
Held in the Oristano province around a town called Sedilo, around 100 horsemen commemorate to Saint Constantino by taking part in a contest that resembles less of a race and more of a hunt. The mass of riders parade and then gallop at tremendous speed in pairs and threes keeping the pace in a choreographic movement. The group is led by the first three horsemen: the first one on a white horse carries the colours of the Saint and the other two just behind have the other two bands. The remaining horsemen must not overtake the leader or else it depicts an omen that the values of Christianity have been defeated.
www.santuantinu.it

By Air
Cagliari is served by nearly 20 airlines, major carriers include Air Berlin, Alitalia and British Airways, as well as budget airline such as Ryanair and Monarch (seasonal.)

Olbia-Costa Smeralda has nearly 30 airlines, incuding major carriers such as Aliatlia, British Airways and Lufthansa as wella s most of the major budget/seasonal carriers. Flights connect with Italy, the UK, Switzerland, France, Germany, Belgium, Spain, Austria and Scandinavia.

By other means
Ferries operate between Sardinia and many ports on mainland Italy, as well as with Corsica, France and Spain.
Customs, Immigration and Visas
Visitors must have a valid passport. US and EU citizens do not need visas, but other nationals should check with their local Italian embassy if they need one.
Departure and other taxes
No additonal departure tax is payable.
Italian VAT is currently 21% but is likely to rise to 23% in the near future.
Customs Duties
Tourists arriving from outside the EU can bring in reasonable amounts of goods for personal consumption e.g. 2 litres wine, 1 litre spirits, 200 cigarettes without incurring duty, in line with most EU member states.

When leaving duty-free shopping is no longer permitted between EU states and Alghero airport has no duty free shops.

Emergency
Emergency Aid: 113
Carabinieri: 112
Fire Brigade: 115
Revenue Guard Corps: 117
Ambulance: 118
Fire Fighting: 1515
Coast Guard: 1530
Emergency at Sea: 1531
Emergency Breakdown: 116
Medical
There are no serious disease threats in Sardinia; the water is safe to drink and standards of food hygiene in restaurants are good. Every major city has hospitals with emergency wards; airports and train stations have medical teams on standby. Pharmacies are available in every town and resort, and stay open 24 hours or work on a shift system.
Tourist Medical Service (24 hours)
+39 55 475 411
Hazards
There are no seriously dangerous animals here, although ticks picked up while hiking through long grass (especially near sheep) may cause irritation, or possibly disease. The main dangers to tourists come from beaches with strong undercurrents, hiking in rough terrain without adequate water, footwear etc. and negotiating the roads with the rather erratic driving style of the Sardinians to contend with.
Transport on shore
Sardinia may be the only region of Italy without motorways, but network of dual carriageway freeways mean there are good road links between towns. Rural roads are often narrow, steep and twist with hairpin bends, and locals are loath to give way…
Crime
Sardinia is one of the safest regions of Italy, but tourists should take the usual precautions so as not to fall prey to muggers and pickpocketers – especially in the bigger towns.


Porto Cervo Marina
Porto Cervo, on the north east coast, which used to be a small fishing village hiding inside a tiny bay with a narrow inlet and poor holding, was initially developed by the Aga Khan and Associates and has now become reputedly the most exclusive (and expensive) marina in the Mediterranean.
A little further south is a delightful anchorage with beautiful beaches and good holding, the Cala di Volpe, which now has a fashionable hotel at its northern end but becomes a little crowded in high summer.
Marina di Portisco
This granite-built marina lies in the Costa Smeralda, between La Maddalena and Tavolara's National Parks. It is close to Olbia and its international airport and has many services; supermarkets, shops, diving centres and rental companies.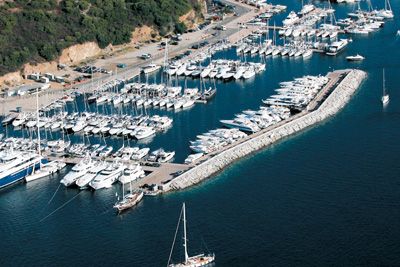 Marina di Porto Rotondo
Set on a beautiful stretch of coastline, this marina offers a lively, elegant village feel. The white sands of the Costa Smeralda are just a few miles away. During the summer season the town's open-air theatre puts on plays.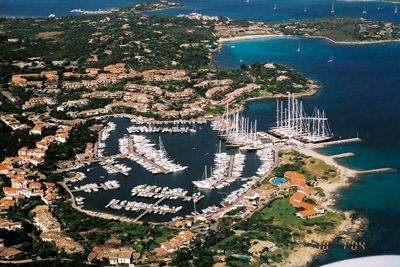 Alghero Marina Aquatica
This is located on Sardinia's Costa Corallo, with good diving, great anchorages and stunning beaches. Alghero is an historic trading port with rich architecture and the town bustles with bars, restaurants and shops.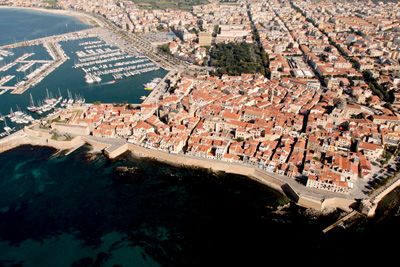 Marina di Sant'Elmo
This marina is part of the harbour complex at the southern end of the port of Alghero. Visitors can enjoy the nightlife of the town, and during the summer there are numerous festivals involving concerts, fairs, food and wine tasting and fireworks.
IBS Yachting Point, Cagliari
As well as being a marina, the Yachting Point acts as a year-round boat show, offering a range of craft for sale. Cagliari harbour also hosts many regattas and water ski races from Spring through to Autumn.