Overview
One of the largest islands in the
Mediterranean
,
Sicily
is a wild and beautiful place with a wealth of history and culture. Most people probably know Sicily for two things: Mount Etna and the Mafia. But there is so much more to the island than that.
The island nation owns a good number of marinas allowing a plethora of mooring and exploring opportunities. The island's capital Palermo and the towns of Messina, Licata and Trapani all have excellent marinas and are great jumping off points for further inland exploration.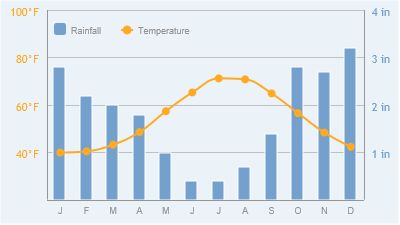 Best time to go
April to October


Timezone
GMT +1
Currency
Euro
Language
Italian
Capital/principal ports
Palermo, Catania
Religion
The official religion is Roman Catholicism, and the locals take their religion very seriously.


Dress
Sicily is a very conservative and old-fashioned island, so it is wise to dress appropriately in public. Revealing outfits will be frowned upon by the locals, and you should cover up knees and shoulders when visiting religious sites.
Events
There are also many events and festivals held in Sicily that you could fill a book with them. There are that huge number of religious festivals where statues of Jesus, the Virgin Mary, and assorted saints are paraded around towns and villages throughout the island. Each town and village as his own saint, and most have a festival to commemorate that saint. As well as religious festivals, there are numerous food festivals, including ones dedicated to ricotta cheese, capers and artichokes.

Airports
There are two main international airports in Sicily, one at Palermo (in the west of the island) called Palermo Punta Raisi, and one at Catania (in the east of the island). In addition, there are smaller airports at Lampedusa, Pantelleria, and Palermo Boccadifalco.
Customs, Immigration and Visas
Other than the valid passport, EU citizens need no other documentation. Visitors from outside the EU may need an Italian visa depending on where they are coming from. Many countries have a visa-waiver agreement with Italy that allows visitors to stay for up to 90 days. Check with the Italian consulate in your country if you are in any doubt.
Departure and other taxes
None
Customs Duties
Being part of the EU, there are no restrictions on imports from other EU countries for EU citizens. Other nationals may import items totalling €430, along with the usual duty-free allowances (200 cigarettes, 50 cigars, 4 litres of wine, 16 litres of beer, etc).

Emergency
Police: dial 112 for Carabinieri, 113 for Polizia
Ambulance: dial 118
Fire: dial 115
Medical
Medical facilities in Sicily are patchy. In the major towns you will find modern, well-equipped hospitals, but remote areas are more of a problem. The Ospedale Civico (Tel:
091 666 1111
) on the Via Carmelo Lazzaro in Palermo is the main hospital there, while the Farmacia da Naro on the Via Roma is open 24/7. In Catania, the main hospital is the Ospedale Cannizzaro (Tel:
095 726 1111
) on the Via Messina. Most pharmacies are well-equipped to deal with minor ailments.
Hazards
Sicillian Tarantulas are venomous, but not fatally so, and there are a few varieties of snake you might want to avoid stepping on (the Asp Viper, for one). If you're walking through undergrowth, wear boots and long trousers, and stamp your feet often (being careful where you stamp!). Other than those, it's the usual things like jellyfish, sea-urchins and mosquitoes.
Transport on shore
Sicily is a pretty big Island, is if you want to travel further afield than your marina, a hire car is advisable. The short local trips, taxis are cheap and plentiful. Be warned, however… although the distances aren't huge, the roads tend to be slow and it can take quite a long time to cover even relatively small distances.
Crime
For many people, there is a perception that Sicily and crime go hand-in-hand. While that may still be the case in some areas of life (notably drug-trafficking and government contracts) the average visitor need not be concerned by organised crime. However Sicily is a relatively poor island, and visitors needs to be wary of petty theft. Keep your valuables safe (preferably on board your yacht) and try not to look ostentatiously wealthy. At night stick to well lit and populous areas.


Marina Villa Igiea, Palermo
Close to the international airport at Palermo, this marina has 30 berths for yachts over 30m, and is situated within walking distance of the town centre, handy for shops and restaurants. Marina offers full repair facilities, as well as electricity, freshwater, and pump-out.
Marina di Portorosa, Messina
Although nominally at Messina, Portorosa is actually on Sicily's north coast, about 25 miles away. Primarily a marina village, there are a limited number of births for bigger yachts – eight berths for 30m+ yachts, and 12 berths for yachts 25 to 30m. Facilities are limited to electricity, freshwater, and fuel. However this marina does afford access to Mount Etna and the chic resort of Taormina.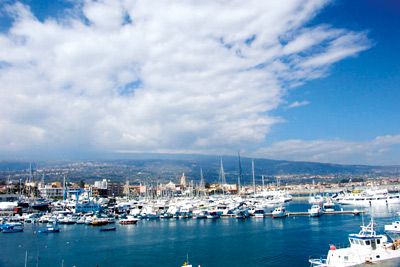 Marina di Cala del Sole, Licata
Situated on Sicily's south coast, handy for the stunning archaeological sites of Agrigento and Selinunte, Licata is a full-service marina offering 25 berths for yachts 30m over. Facilities include haulage and launching, a Brickyard with workshops and travel lift, a shopping centre, restaurants, bars, and sports facilities including an Olympic sized swimming pool. Berths have electricity, fresh water, fuel, pump-out, cable TV, and Wi-Fi.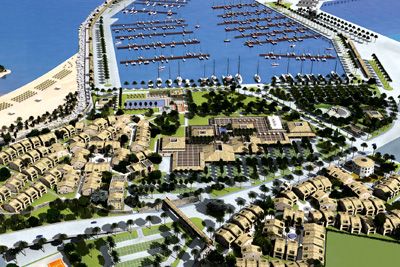 Boat Service Trapani, Trapani
Sited on the far western tip of the island, Trapani is more a ferry port than a natural destination for superyachts. However, the Boat Service Trapani is a long-established facility offering the full range of services to visiting yachts. There are only six berths for yachts over 25m, but they all have freshwater, electricity, fuel, pump-out, cable TV and Wi-Fi. Trapani also has the benefit of being only 20 miles from Segesta, site of one of the most beautiful and best-preserved Doric temples in the world.