Overview
The Maldives
is a ravishing low-lying coral and sand archipelago in the Indian Ocean and a dream for divers, fishermen, beach-lovers and honeymooners.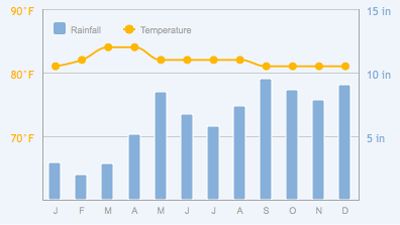 Best time to go
High season runs from around December to May when the weather is wonderfully warm and dry and the sea is at its clearest. However, with year-round temperatures of 26-30°C there is no 'bad' time to go; there may be showers in the 'low' season, but this is also the best time for surfing.


Time Zone
GMT +5
Currency
Rufiyaa
Language
Dhivehi, which has strong Arabic influences, is the national language. English is widely understood in Malé.
Capital/principal ports
Malé(with 1100 inhabitants)
Religion
Sunni Muslim

Dress
Remember, the Maldives is a strictly Muslim country, so at least in theory, bikinis are not allowed, neither is nude sunbathing; women should have shoulders and thighs covered at all times and clothes should not be see-through. In reality these rules only really apply when visiting villages or towns. On resort islands and on board things are very relaxed – a few high-end resorts may require long trousers and footwear in the evenings, but otherwise wear what is comfortable.
Events
The main events in the Maldivian calendar revolve around Islamic celebrations such as Eid, and Independence Day on the 26th July.

By Air
Airports
Most flights on Malé are charter-based and connected with the major resorts. Flights come from Europe and the UK, the Indian subcontinent and Asia. There are schedules flights on Emirates from Dubai several times a week.
Customs, Immigration and Visas
Imports are subject to strict rules due to the country's Islamic religion. Visitors are forbidden to import firearms, ammunition, narcotic drugs, dogs, pork products, non-Islamic religious items such as bibles, liquor (it is readily available on the islands however) and pornographic material (even what we'd consider 'top shelf' titles counts as pornography).

No visas are required prior to arrival, but you'll need a valid passport/ID card, proof of return or onward travel and means to support yourself ($30 a day) or a hotel reservation, then you'll be issued with a 30-day visa on arrival. Visitors to registered resorts are exempt.
Departure and other taxes
Departure tax is US$10
The Maldivian government is in the process of raising sales tax from 3.5% to 6% – and there may be plans to raise it further to 10%.
Customs Duties
Visitors can bring personal use items into the country duty-free but be aware of the prohibitions on alcohol etc. (see above).
Emergency
Dial 119 for the Police in case of emergency
Dial 102 for medical help

Hazards
Most tourists will spend as much time as possible in the wonderful waters around the Maldives – and here is where most dangers lie: corals can cause infected cuts, triggerfish can be aggressive (they'll happily nip off a toe or two) and deep drop offs can expose you to strong currents.

Transport on shore
Most islands are so small you'll walk around them in well under an hour.

Crime
Crime is relatively low-level on the Maldives; petty theft does occur, so don't leave items unattended on the beach or in hotel rooms.


Port of Malé
Not strictly-speaking a marina, the Port of Malé is the sole port for the whole of the islands – and the place where you must clear customs and immigration and obtain a cruising permit. This is also the best pick-up point for the airport and for provisioning.