Overview
The nation of New Zealand is made up of two islands: The North and South. The South is widely regarded as the more beautiful however there are many spots on the North to discover too. During the Pacific's southern summer cyclone season, New Zealand is out of harm's way, and with 18,000km of pristine coastline, sheltered bays, stunning fjords and abundant marine life it certainly offers something for everyone.

The two islands boast a multitude of marinas that can accommodate superyachts too.


Best time to go
For warm weather: November-April
For skiing: June-August


Timezone
GMT+12 (DST +13)
Currency
New Zealand Dollar (NZD)
Language
English, Maori
Capital/principal ports
Wellington is the capital, Auckland the main yachting port
Religion
The majority of New Zealanders identify themselves as Christians; Anglicans in the North and Presbyterians in the South: about a third ascribe themselves to no religion and there are small numbers of many other faiths such as Buddhism and Hinduism.
Dress
New Zealand is a westernized country so the usual sensibilities apply. In general the dress code is casual, with some fancier restaurants demanding some dressing-up; but the main emphasis is on comfortable, practical clothes for outdoor pursuits. Although topless sunbathing is not illegal, it's not as widespread as on many European beaches.
Shopping
Although Auckland is not the official capital of New Zealand, with 31% of the total population, it is the major hub. Hence, the best and most diverse shopping is to be found here. Unusual and local goods can be picked up at the various markets, and downtown is home to the designer clothes stores.

Throughout New Zealand you can pick up some great carvings, jewellery and other Maori artefacts. Once you get past the touristy shops, it's easy to find craft shops and markets that offer the real deal. Look out for bone, jade and paua shell (abalone) carvings.


Events
September: Auckland on the Water Boat Show
June/July: Celebrate Aotearoa's Maori New Year at the Matariki Festival with concerts and shows


By Air
The two largest international airports are Auckland and Christchurch, with Auckland servicing more than 20 destinations with a dozen or more airlines, and direct connections from Christchurch to Sydney, Melbourne, Brisbane, Singapore, Kuala Lumpur, Buenos Aires, Santiago de Chile and Tokyo. Dozens of smaller independent airports receive commercial flights from Australia.

Customs, Immigration and Visas
All visitors must show a valid passport; evidence of funds of NZ$400 per month, if living on board a yacht; an outward ticket (or evidence of sufficient funds to buy an outward ticket) if departing by commercial transport; and a visa if required. British citizens do not require visas for visits of up to six months. American and Canadian visitors don't require visas for visits of up to three months. Visit the website below for more information:

Departure and other taxes
Departure tax is included in the ticket price if flying out of Auckland. If you are departing internationally from other centres, you must pay $25 at the Bank of New Zealand counter or kiosks.
Customs Duties
New Zealand allows the usual amounts of personal usage goods in duty-free.

Emergency
In an emergency call 111 for fire, police or medical services.
Medical
Visitors to New Zealand are covered under the local Accident Compensation Scheme for personal injury by accident. Benefits include some medical and hospital expenses, but do not include loss of earnings outside New Zealand.
Hazards
Rips and undertows that can drag swimmers out to sea are common on New Zealand beaches. Take note of warnings when diving, swimming or surfing. About 15,000 earthquakes are recorded each year in New Zealand, but only 50-250 can felt at all. Pre-warning instruments are set up along the coast and on offshore islands to detect tsunami waves.
Crime
In general, the level of crime in New Zealand is similar to other western countries. Theft from cars is a major problem in New Zealand and if possible valuables should not be left inside vehicles. Parking areas frequented by tourists and car parks for hiking trails are particularly unsafe.


Gulf Harbour Marina
This 1034 berth facility at Whangaparaoa is 45 minute drive from the centre of Auckland and the development benefits from a hotel, country club and golf course.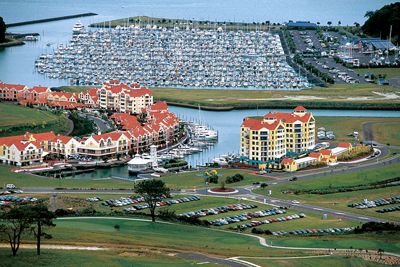 Bayswater Marina
This Auckland marina lies 35km from the International airport and 8km from the heliport.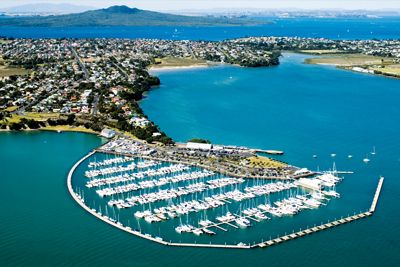 Hobson West Marina
This world-class marina has deepwater access and lies at the heart of Viaduct Harbour, Auckland's sailing heart and main waterfront scene.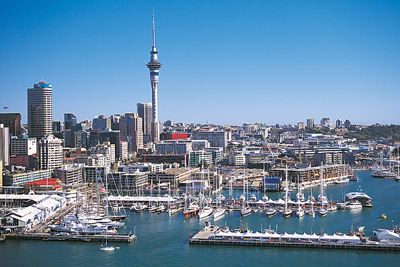 Orams Marine
This centrally-located marina is one-stop boatyard facility close to excellent local cruising grounds.
Viaduct Harbour Marine Village
This marina offers berthing in the heart of the action in central Auckland.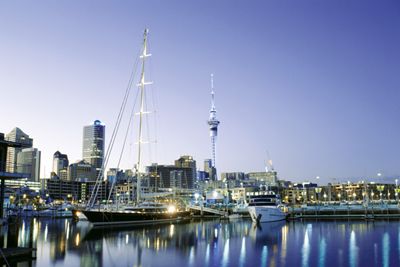 Picton Marina
Picton is located in the grape-growing region of Marlborough, which also offers 2000km of coastline with coves, beaches and bushwalks.