Sardinia yacht charter
The second-largest island in the Mediterranean, Sardinia is also one of the most beautiful. From the city of Cagliari in the south to old coastal towns such as Alghero in the north, there is a rich mixture of architecture and culture.

The island's stone tepee-like structures, the Nuraghe, are among the oldest constructions known to man; while the Sardinian language, Sardo, is still spoken along with Italian and several other local dialects.

Food-lovers wax lyrical about the seafood on Sardinia, claiming that the island's lobster is the finest in the world. Wood roast suckling pig and wild boar are also delicacies.


In the northeast of the island lies the famous Costa Smeralda, beloved of superyacht owners. Originally bought by the Aga Khan 50 years ago, the area is an eclectic mix of colourful fishing villages, beautiful villas and high class boutiques. Porto Cervo is at the heart of the Costa Smeralda, with its marina nestling in a beautiful, sheltered harbour.

On shore, designer shops add to the heady mixture of fabulous restaurants and exclusive bars. This emerald coast offers plenty of natural beauty too, deep bays and clear seas – thanks to rocky shores – all make this a great place to use all those watertoys and get in some diving and swimming.

The stretch from Golfo Aranci to Baia Sardinia covers 55 kilometres, and undoubtedly offers some of the most beautiful sailing waters in the world, with abundant wind and sunshine. Even the mistral can't dampen the hot dry days of June-August (most rain falls from October-February creating the lush green interior).

Those who love to snorkel recommend the Archipelago della Maddalena, the first national park in Sardinia, which boasts 60 islands and islets. The best of the beaches are Liscia Ruja, with its splendid half-moon shape; Cappriccioli, framed by pink granite rocks; and Romazzino. For golf aficionados, there is Il Pevero, one of Europe's most spectacular courses.

Amazing Anchorages
Cala di Volpe: This large bay is a popular spot – beautiful beaches, great watersports, and close to fashionable Port Cervo. With an exclusive resort at its head, and plenty of secluded coves bordered by pink granite boulders, there's something for everyone here…
Hottest Harbours
Porto Cervo: beautifully developed superyacht-orientated harbour on the exclusive Costa Smeralda. Designer boutiques and high-class restaurants nestle amongst its perfect whitewashed lanes.
You might also like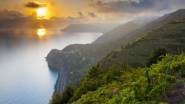 Superyacht owners' favourite spots in Italy
Italy's coastline has many beauty spots, but these six have been singled out by experienced superyacht owners who never tire of visiting them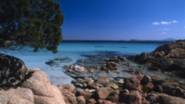 A yacht charter to Costa Smeralda
Take your yacht between Golfo Aranci to Baia Sardinia on the north-east side of the island of Sardinia to find a coastline known as Costa Smeralda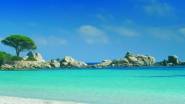 3 choice superyacht anchorages in Corsica
A choice of three stunning locations to drop anchor and while away the days on the island of Corsica while on your superyacht charter
More on Charterfleet