Floating resorts
A charter yacht is more than just a way of getting from Point A to Point B: It is also a floating resort with a full range of leisure activities from which to choose.

If there is one trend that has captured the imagination of yacht designers, builders and charter guests over the past few years, it is the onboard "beach club". It seems that, after so many years of yachting, we have finally recognized that we like being close to the water.

The beach club started out as a platform on the transom (rear) of the yacht at the water level. This was intended to make it easy to board from both floating docks and tenders and, when at anchor, it would have a retractable ladder for swimming. Soon crews started putting cushions on the swim platform and, before long, designers were creating huge spaces for lounging at water level.

These often involve a hinged transom that folds down to create the sunning area and platform, while a large compartment becomes an open-air lounge and club, complete with bar, comfortable seating, and full entertainment systems. It is the perfect place to while away a lazy afternoon.

Guests are just steps from a cooling swim, they can perfect their tans on a sun lounger, or they can relax in the shade with a book. Water toys are nearby, and the crew provides a steady supply of drinks and nibbles.

This beach club may be combined with two other "musts" aboard modern charter yachts: a spa and a gymnasium. A bubbling waterjet spa is often located on the upper deck for evening relaxation, but some yachts also have one in the beach club, perhaps with a massage table nearby.

Many yachts create dedicated gymnasiums with complete exercise and weight-training equipment to help guests stay in shape and to combat the gourmet cuisine, too! By placing some gym equipment such as a stationary bicycle or treadmill in the beach club, guests can finish their exercise session with a cooling swim.

Saunas are another popular item aboard charter yachts and, since they require specialised insulation and equipment, these are usually in a dedicated cabin, although a few yachts even have one in the master suite. These are just like the land-based saunas offering wet or dry heat to soothe muscles and cleanse the pores. They are sometimes called hammams, or Turkish baths, in the charter brochures.

Massages go hand-in-hand with spas and beach clubs, and many yachts have crewmembers trained in massage techniques. There may be a dedicated massage room or a portable massage table that can be set up to provide a pleasant view.

Personal care is a byword aboard a charter yacht and, on some, that includes a hair and beauty salon. Larger yachts may have separate facilities with all the amenities of a shore side beauty salon, ranging from hair needs and facials to manicures and pedicures, along with trained stylists and operators. Smaller yachts sometimes have trained crew to provide these services, or they can be arranged by the captain or charter broker.

As the size of yachts increase, so do the opportunities for resort-like amenities. Where the Jacuzzi spa was once considered quite sophisticated, many yachts are now equipped with paddling pools that merit the name since you can paddle around in them. Other yachts have chosen the lap pool style, often incorporating water jets so that there is a flow of water that allows the swimmer to stay in the same place, as though swimming upstream. Infinity pools, where the water edge seems to disappear, are also becoming popular.

And for less strenuous relaxation, every charter yacht has sunpads scattered around the yacht so you can choose the perfect spot to work on that perfect tan.

There are so many leisure opportunities aboard a charter yacht that it's wise to remember that this is a vacation: you don't have to do everything.
You might also like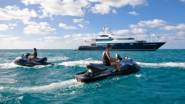 Superyacht water toys, slides and jet skis
Messing about on - and sometimes under - the water is all part of the charter experience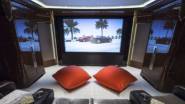 Superyacht entertainment!
Being bored on a charter yacht is simply not an option with the array of onboard entertainment options available to guests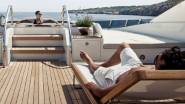 Life on board a charter yacht
From relaxing sea days to lively port excursions, this is what life is like on board a charter yacht
More on Charterfleet