Toys for everyone
There was a time, and not too long ago, that the water toys aboard a charter yacht consisted of some fins, snorkels and inflatable floats.

Today, however, a modern yacht is positively naked if it doesn't have everything from a personal watercraft to inflatable waterslides from the highest deck.

From mini-submarines to powerful tenders for towing "banana boats", from wakeboards to windsurfers, kayaks to kiteboards, the choices are many.



Personal watercraft (PWCs) are ubiquitous, often as two- and three-seaters that can allow family members to zip around together for wet fun. Easily learned, the PWC is like a waterborne motorcycle, but far safer. Fall off a PWC, and you just get a dunking.

Another form of water toy are inflatables, which include all manner of toys that can be towed behind the tender. The banana boat is popular, allowing several guests to ride this bouncing, splashy tube that is the nautical version of a bucking bronco.

Taking a page from cruise ships, some yachts have inflatable versions of the water slide, allowing guests to zip from an upper deck into the water via a convolute, thrill-packed slide. Speaking of zip, there are even charter versions of the zip line, which take guests from the top deck to a splash-down far from the yacht.

This doesn't mean that snorkels, masks and fins are passe, and every charter yacht has them in all sizes and shapes. Many of the world's charter destinations feature fabulous snorkeling, where guests and their families can float in a veritable aquarium. If you liked the movie Finding Nemo, you'll love snorkeling.

An underwater toy now found aboard many charter yachts is the Seabob, a James-Bondish water sled that tows the swimmer, above or below the water, without requiring swim fins or effort.

If you have experience (and the appropriate certificates), many yachts have a full complement of scuba diving gear aboard. Others may offer rendezvous diving, where a local scuba company meets with the yacht and leads guests on a skindiving adventure.

Whether you're an experienced waterskier or an absolute novice, charter yachts often have tenders that are perfect for everything from carving a slalom on glassy water to helping you get on your feet for the first time.

Sailing dinghies and kayaks are also growing popular in charter yacht "toyboxes", along with windsurfers and the latest rage, kitesurfers. It's not surprising that many charter yacht crews are experienced in all of these sports, and can help you learn (or take you on a tandem outing).

At the more exotic end of the watertoy spectrum, some expedition yachts carry a luxury version of an amphibious jeep, allowing guests to get to shore (dry and comfortable) and then explore islands where there may be no other automobiles.

A hovercraft is a similarly amphibious vehicle that can easily cross reefs, coral heads or mud that might stop conventional tenders, yet still ferry guests safely to shore.

And then, of course, there is the latest rage: mini-submarines. These are fully equipped submarines designed to carry the captain and a few guests on adventures straight from the pages of Jules Verne.

Whether your preference is for the speed of a Jetski or the more sedate pleasure of snorkeling amongst tropical fish, there is a water toy to delight every charter guest.

Water toy is a catch-all term to include everything that a charter guest might enjoy on or in the water. As the cruise ship industry has added attractions such as rock-climbing walls and zip lines, the charter fleets have kept pace in their own way. In short, if you're worried that you won't have anything to do, rest easy.
You might also like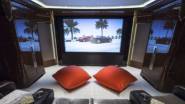 Superyacht entertainment!
Being bored on a charter yacht is simply not an option with the array of onboard entertainment options available to guests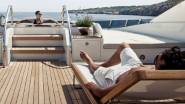 Life on board a charter yacht
From relaxing sea days to lively port excursions, this is what life is like on board a charter yacht
An office with a sea view
The modern charter yacht has better communication and work facilities than most homes (and even a few businesses)
More on Charterfleet