No one wants to think about a medical emergency when planning a luxury charter, but the good news is that superyachts are well prepared when it comes to the unexpected. In many cases, your treatment will be faster and better than you'd get at your own home.

All superyacht crews are required by maritime law to have basic training in first aid, and many crew members have the equivalent of paramedic training as well. Backing up that knowledge are sophisticated medical kits that often include everything from oxygen tanks to defibrillators, specialised medications and intravenous fluids.
Even better, many charter yachts belong to a round-the-clock "telemedical service", which is a dedicated provider that links the yacht directly with an emergency room doctor via a satellite telephone. These services usually equip the yacht with a comprehensive medical kit that is refilled and updated regularly, so the doctor knows exactly what is available. In some cases, the yacht may even be equipped with monitoring devices so the doctor can read any vital signs thousands of miles from the yacht.

These telemed services link the yacht crew in real-time with the doctor, who can talk them through an emergency. Since they are often based in a hospital emergency room, specialists can also be called upon as needed.

The most common medical issues are gastrointestinal (too much of that gourmet cuisine), ENT (ear/nose/throat) caused by swimming, and sprains or trauma caused by falls. In more serious situations, the yacht can arrange a medical evacuation by helicopter and, depending on the patient's desires, even arrange for private jet transportation to the hospital of choice.

In one instance, an owner suddenly clutched his chest and the captain quickly recognised a heart attack. Two of the crew had advanced medical training and the yacht was equipped with a comprehensive medical kit as well as subscribing to a medical support service.

In moments, the owner was getting both oxygen and intravenous fluids while an ER doctor talked the captain through the procedures. At the same time, the medical service calculated the closest port for a med-evac jet that was scheduled before the captain even put down the phone. Thanks to the knowledge and supplies available on board, the owner recovered fully.

To make the most of the medical services, a potential charterer must be clear with the charter broker about any known or suspected medical problems and any special medications required. Your doctor should be consulted before departure to make sure that none of your regular medications could be affected by excessive heat, sun, or insect bites.

Seasickness isn't much fun, but modern superyachts have sophisticated stabilisers that even work when the yacht is at rest (zero-speed stabilizers) to steady any motion. You aren't alone if you get motion sickness: Lord Nelson and Lawrence of Arabia were among many who are prone to seasickness.

A number of modern medications and treatments are available and, because seasickness affects many people, there are hundreds of remedies available, including pills, patches, acupressure wristbands, and more. Some of the medications cause drowsiness, but everyone reacts differently to these solutions, so be sure to try them before departure.

There are also some common sense ways to prevent seasickness as well. Minimise the alcohol consumption before departure and while underway, stay outside in fresh air, avoid reading, and keep your eyes on the horizon.

If you are planning to scuba dive, some yachts now have compact hyperbaric decompression chambers for use if they are far from shoreside facilities, and you can consult your charter broker about the need and availability.

The essence, however, is that superyachts are well-prepared with both the equipment and training to handle medical emergencies, and modern electronics such as satphones can bring both advice and aid quickly.
You might also like
How to choose a yacht
With hundreds of yachts available for charter, here are some pointers on which one could be right for you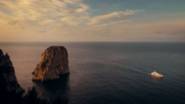 How to plan and book a charter
From preference sheets to insurance, this is our comprehensive guide on how to plan and book a charter on a luxury yacht
Yacht charters for families
Charter yachts are often viewed as adult playgrounds, however as more and more emphasis goes on family-fun, charter yachts are becoming more child-friendly
More on Charterfleet