Expedition yachts for charter
While the majority of charters prefer to take their charters somewhere warm and sunny (typically the Caribbean in the winter and the Mediterranean in the summer), an increasing number are looking for a charter with a difference, and the charter companies are catering for these adventurers by offering explorer yachts in unusual locations.

Explorer yachts are boats specifically designed for tough conditions, for covering long distances, and for being completely self-sufficient. If you've always wanted to explore the Aleutian islands, or the Sea of Cortez, then chartering an explorer yacht is probably your best bet.

In terms of facilities, explorer yachts tend to have/need less deck space than a conventional yacht, but will have a comfortable and sumptuous interior. Some are built to "ice class" standard, allowing them to venture into areas where normal yachts cannot go, and all will be able to be self-sufficient for weeks at a time.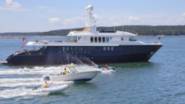 Length
140'1"/42.70m
Sleeps
12 guests in 6 cabins
Capricorn welcomes guests aboard with a comfortable flow. Warm and inviting, the full beam salon allows endless views into the vessel. The salon can be transformed into a cinema...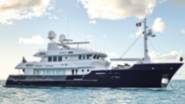 Length
115'/35.05m
Sleeps
8 guests in 4 cabins
Koi is a well conceived and meticulously built explorer yacht designed equally for long range exploration or for entertainment and relaxation. The capacious deck areas are...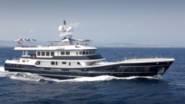 Length
160'9"/49.00m
Sleeps
10 guests in 5 cabins
The Mercy Boys was built by Schweers in 1986 and refitted in 1999 and 2008. Lloyds classed and MCA compliant, she has a classic John Munford interior and accommodates up to 12 g...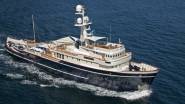 Length
193'/58.83m
Sleeps
12 guests in 6 cabins
Originally built by Holland's J&K Smit yard in 1957 as an ocean going tug, Seawolf was converted to a superyacht by Astilleros de Palma in Mallorca from 1998 to 2004 and f...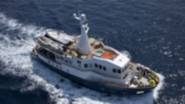 Length
110'11"/33.80m
Sleeps
10 guests in 5 cabins
The 34m (111') motor yacht Alter Ego is an unusual charter yacht in that she's a converted ocean-going tug, with all that implies in terms of strength and seaworthiness. In...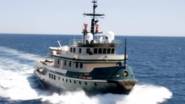 Length
145'0"/44.20m
Sleeps
12 guests in 6 cabins
Built in 1967 by Richard Dunston as a 44.2m long-range tug boat, she underwent a complete rebuild in 2006 to convert her into a luxury yacht of the highest quality. This superya...
Interested in chartering an explorer yacht?