Fast yachts for charter
Fast yachts are the nautical equivalent of sports-cars — they are generally lean, low, fast, noisy, and exhilarating. These yachts are not for the shy, retiring type, they tend to appeal to those who like their kicks to be loud and proud. And some of them are very sleek and very sexy!

The down side of fast yachts is generally they are more about speed and excitement than comfort, and they tend to have more Spartan facilities than bigger, slower yachts. They may be generally less expensive to charter than bigger yachts, but if you want to use the performance available you will also have to pay for the privilege in higher fuel bills.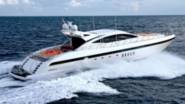 Length
92'8"/28.25m
Sleeps
6 guests in 3 cabins
This 2008 model of the 92-foot Mangusta is considered to be one of the most exotic sports yachts afloat. Cruising at 30 knots and capable of a top speed of over 38 knots, th...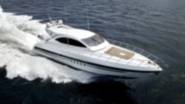 Length
72'1"/22.00m
Sleeps
7 guests in 3 cabins
The 22m (72'0) Lorelei is a fast offshore cruising motor yacht capable of speeds up to 33 knots. She has large sunbathing areas on comfortable cushions both astern and forw...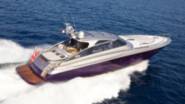 Length
78'9"/24.00m
Sleeps
6 guests in 3 cabins
Low Blow a 24.00m Luxury yacht built by Baia in 2008, is now currently available for charter. With naval architecture by Baia, interior styling by Carlo Galeazzi; she accomm...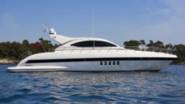 Length
72'11"/22.23m
Sleeps
6 guests in 3 cabins
Outside Edge IV is a real sports boat, a 22m Mangusta with an open layout and a cruising speed of 27 knots that charters in the Cote d'Azur and Corsica. This is a yacht tha...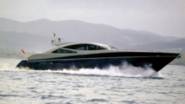 Length
78'6"/23.93m
Sleeps
6 guests in 3 cabins
The wistfully named 24m (80') fast open motor yacht Where the Dreams have no End was built by Royal Denship in 2003 and refitted in 2007 / 2008. Her spacious interior below...