Fast yachts for charter
Fast yachts are the nautical equivalent of sports-cars — they are generally lean, low, fast, noisy, and exhilarating. These yachts are not for the shy, retiring type, they tend to appeal to those who like their kicks to be loud and proud. And some of them are very sleek and very sexy!

The down side of fast yachts is generally they are more about speed and excitement than comfort, and they tend to have more Spartan facilities than bigger, slower yachts. They may be generally less expensive to charter than bigger yachts, but if you want to use the performance available you will also have to pay for the privilege in higher fuel bills.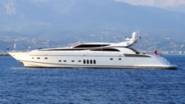 Cheeky Tiger
Length
111'11"/34.11m
Builder
Arno
Sleeps
8 guests in 4 cabins
Rate
from €60,000 p/w
Marketed by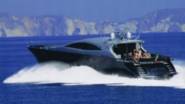 Ale Mia
Length
105'/32.00m
Builder
Italcraft
Sleeps
10 guests in 5 cabins
Rate
from €58,000 p/w
Marketed by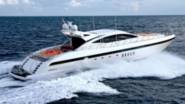 Mac 1
Length
92'8"/28.25m
Builder
Overmarine
Sleeps
6 guests in 3 cabins
Rate
from €52,000 p/w
Marketed by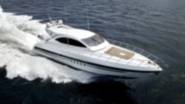 Lorelei
Length
72'1"/22.00m
Builder
Overmarine
Sleeps
7 guests in 3 cabins
Rate
from €25,200 p/w
Marketed by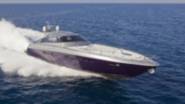 Lulu
Length
78'1"/23.80m
Builder
Baia
Sleeps
6 guests in 3 cabins
Rate
from €36,000 p/w
Marketed by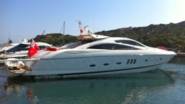 Gigiole
Length
82'/25.00m
Builder
Sunseeker
Sleeps
8 guests in 4 cabins
Rate
from €30,000 p/w
Marketed by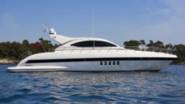 Outside Edge IV
Length
72'11"/22.23m
Builder
Overmarine
Sleeps
6 guests in 3 cabins
Rate
from €30,000 p/w
Marketed by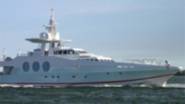 Never Say Never
Length
122'/37.18m
Builder
Oceanfast
Sleeps
8 guests in 4 cabins
Rate
from $84,000 p/w
Marketed by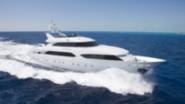 Northern Lights
Length
132'/40.23m
Builder
Westship
Sleeps
10 guests in 4 cabins
Rate
from $80,000 p/w
Marketed by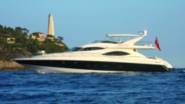 Ruff One
Length
78'7"/23.95m
Builder
Sunseeker
Sleeps
6 guests in 3 cabins
Rate
from €30,000 p/w
Marketed by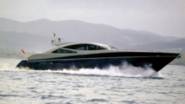 Marketed by