Sailing yachts for charter
While the majority of charters are booked on motor yachts, there are plenty of people who prefer the calm and tranquility of sail. Around 15 to 20 percent of the charter fleet is sail-powered, and these boats tend to appeal to people who prefer peace and quiet, or who are concerned about their carbon footprint, or who don't want to pay large fuel bills, or who simply like the elegance and tradition of a sailing yacht.

Sailing yachts tend to differ from motor yachts in a few fundamental ways. The interior volume of a sailing yacht is generally less than the same-sized motor yacht, and there is usually less space for loafing around on deck. Sailboats tend to be more traditional, too, so Jacuzzis and on-board cinemas are a rarity. But the tranquility of cruising under sail can be the perfect way to get away and unwind.

Here is a selection of some of the sailing yachts available for charter:
Length
137'9"/42.00m
Sleeps
10 guests in 5 cabins
Sarissa is the largest composite sloop to be delivered by Vitters shipyard in the Netherlands. Designed by Bill Tripp with interior design by Rhoades Young. Sarissa can...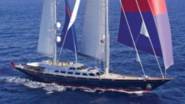 Length
154'2"/47.00m
Sleeps
8 guests in 4 cabins
The 46.9m (154') Perini Navi Andromeda la Dea is a modern day masterpiece and was the first Perinin to circumnavigate the globe and visited both the Arctic and Antarctic. B...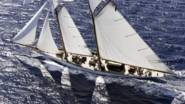 Length
181'10"/55.42m
Sleeps
10 guests in 5 cabins
Germania Nova is an exact replica of the 1908 gaff schooner Germania. She has an overall length of 47m, a crew complement of 13 and accommodation for up to 10 guests in five dou...